Frequently Asked Questions
Can I use your beats for free?
Yes, the beats are free for promotional use on non-profit projects.  Common uses include –
Testing new song ideas
Releasing a (free) mixtape
Background music in videos (without ads)
Download links to all titles are available on the Download page.
Can I remove the tag by cutting out the intro?
While I hope that you don't, there is nothing realistically stopping you from removing the tag.
With any dynamic, business or otherwise, progress gets made only after one side initiates an interest in developing trust.  In the 15+ years that I've been selling beats, I have found that the best approach to getting someone to meet me halfway is to take the first step myself.
The bottom line is that I can't reasonably hide behind multiple tags while I claim to believe idealistically that most of us have the best intentions for our culture.  While that sentiment may sound naive, it comes from an interest in establishing a solid rapport with artists who can relate to my enthusiasm for both making and listening to music.  I'd rather risk having this policy abused by a few people than to assume everyone who can abuse it will do so.
What are units?
A unit is a measurement of each time the song is distributed commercially.  In accordance with current RIAA standards, each unit counts as the distribution of one album, one "single" and\or 1500 online streams.
For example, on a license that allows for 2000 units to be distributed, you could collectively sell 450 albums, 750 singles and stream it 1.2 million (800 x 1500) times.
What are the tracked out studio files?
Each instrument, drum and sound is exported separately into its own isolated track.  These files can be used by your engineer to make the best mix possible for your song, creating a unique version that fits your writing style and vocal tone most appropriately.
The files are also commonly referred to as "tracking out", "track outs" and "stems".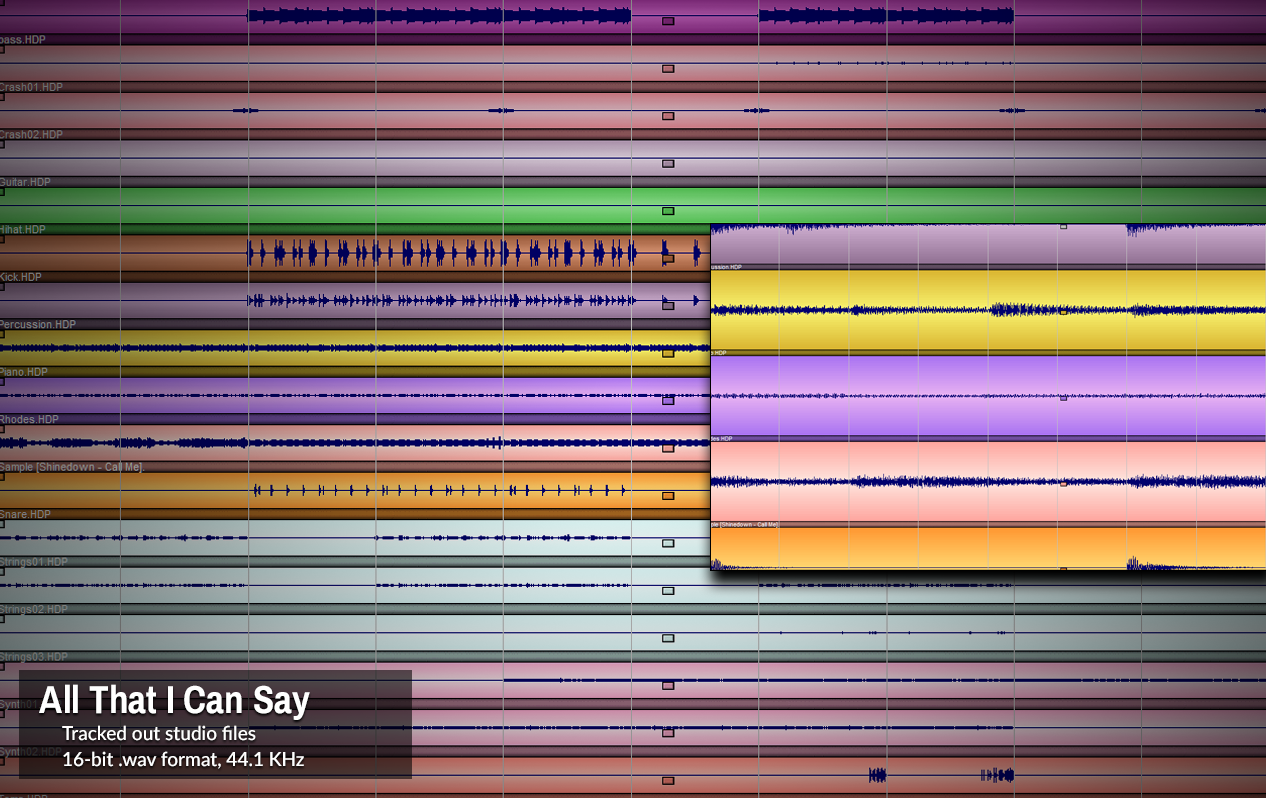 Do I need the studio files?
It depends on what your engineer is capable of doing.  I have known some who are wizards in the studio and can make surprisingly clean and powerful mixes with just the stereo mix of the instrumental by itself.  I'm confident that without the tracked out files, any engineer worth their salt should be able to make a mix that is entirely sufficient for most purposes.
With that being said, my school of thought is that if you're already paying to have your vocals professionally recorded and mixed, it's ideal to provide your engineer with the necessary resources to do what they do best.
If you're still not sure if the files are worth the extra cost, consult with your engineer for their unbiased opinion on the subject.
Does my license expire when Exclusive Rights are sold?
No, your license is valid until you have distributed the allotted number of units.
Does my license expire after a set amount of time?
No, your license does not expire until you have distributed the allotted number of units, regardless of when the purchase is made.
What happens when my license expires?
You would be permitted to continue using the instrumental for promotional purposes.
Can I renew my license when it expires?
Yes, assuming the instrumental is still available.
Can I use monetize my video on YouTube?
Yes, at a rate of 135 views per unit.
Demo Lease Rights – 250 units \ 33750 views
Standard Lease Rights – 2000 units \ 270000 views
Premium Lease Rights – 8000 units \ 1080000 views
Can I make a purchase without Paypal or a credit card?
Paypal is the preferred method due to the safety measures they offer, which are there for your protection as a buyer.
How do I access the tracked out studio files?
You will receive a .rar file containing all of the individual .wav files.  This method is used because it is simpler to transfer a single .rar file rather than a dozen or more .wav files.
WinRAR is the most popular program to use for decompressing the .wav files.  It is available for free at http://www.win-rar.com/download.html?&L=0.
Install WinRAR
Locate where you saved the

.rar file

for your purchased beat
Right-click on the

.rar file

are select "Extract files…"
Choose a location to save the

.wav files

Click "OK"
In most cases, the extraction process should finish in under 2 minutes
When WinRAR is finished extracting, the

.wav files

are ready to be used
You may delete the .rar file at this point if you wish
Note: Upon using WinRAR, you may be asked to purchase it.  Simply click "Close" to dismiss this message.
Can I upgrade my license at a discounted rate?
Yes.  Any payment made on Lease Rights can be applied in full towards the purchase of a higher license.
For example, if you order Demo Lease Rights for $18 and decide in the future that Premium Lease Rights would be ideal for your project, the cost of the license would be $74 as opposed to the full $92.
To apply your credit, email Sales@VTZbeats.com.
I lost the audio files I purchased.  Can you resend them?
Yes.  Email Sales@VTZbeats.com and I will provide download links to the necessary files.  To expedite the delivery of the links, please include any details you can about the purchase.  In most cases, your order can be traced quickly if you provide the email address that was used when the purchase was made.